Well as most of you probably know, I went to SEBTS on Friday for the tour, to meet with an admissions counselor, and sit in on a missions class. I have to say I enjoyed the whole experience. The first thing we did, was sit in on the class. We got off to a little bit of a rocky start – we arrived on campus about 10 minutes before the class started, and were looking at the map wrong, and thus ended up on the wrong end of campus. We quickly realized our mistake, and found the right place, however there was a firetruck in the way… Any way… We arrived at the class about 5 minutes in. The professor had been going around the room having people introduce themselves, and was gracious with our lateness. He spoke extensively from his experience (Prof at NOBTS, SEBTS, and long time IMB missionary. Most of the people who are in his classes will be going with the IMB, so he spoke at length about the IMB ad their hiring practices and so forth. The IMB certainly has allowed experience to refine their hiring practices…
The class paused for a break at 10:45 – 15 minutes after our tour was supposed to start… I was more interested in meeting with, and listening to the missions professor speak than the tour, so I was alright with this. As it happened, the tour group was directly outside of the class room when the professor took the break. The tour took us around the campus showing the various buildings, and their purpose. The buildings were quite beautiful – made of a pretty red brick. It gives them the appearance of being quite old (even though a couple are far from it). Campus is covered with scores of 40-60′ tall magnolia trees. I bet they look spectacular when in bloom. The tour took us into classrooms, discussed professors and so forth. All in all quite interesting. They had a lot of reproductions of old paintings by master painters scattered around campus. In one building in particular the Art had been placed there with specific purpose, to remind the students of specific lessons.
Lastly was the meeting with my admissions counselor. He seems to be pretty cool, and had a lot of GOOD information about tracks that fit together well. The THM for instance is only about 24 credits off from the M.Div ICP that I was already looking to get. It is an advanced masters level program, and is a stepping stone into a Doctorate should I go that route. It is largely directed study. There are a number of scholarships available as well that I am applying for (and still more whose application deadlines were early in the year, and thus missed). So we shall see.
Any way, the entire experience was a positive one, and left me with no reservations about attending. Keep praying that if this is not where the Lord wants me to go, that He will show me (and soon).
by admin with
Met a man tonight who is a struggling recovering alcoholic. He recently hit bottom when he nearly killed two of his friends in a horrific accident. He was a believer, but had fallen away, and prayed tonight to redicate himself to the Lord. Pray for the restoration of his family, the recovery of his friends, and that God would draw Rick ever closer to himself.
Thanks all!
by admin with
Hey everyone! Please keep me and my father in your prayers as we travel to North Carolina to check out a grad school (southeastern baptist theological seminary). Pray for traveling mercies, and for God to be clear about whether I ought to attend there or not. Thanks all!!
Ken
PS by the time this posts we should have been on the road about 4 hours give or take. We are leaving at 5:30am!
by admin with
In his heart a man plans his course, but the LORD determines his steps.
Proverbs 16:9
I think this verse hits at the core of this website…
A year ago I could have told you where I would be now, and what I'd be doing.
Today even my plans for this weekend are up in the air, and beyond that is not set in stone either.
But you know what? I'm ok with that. I just want to be wherever it is that God wants.
by admin with
Beloved, the cross is not made of feathers, or lined with velvet, it is heavy and galling to disobedient shoulders; but it is not an iron cross, though your fears have painted it with iron colours, it is a wooden cross, and a man can carry it, for the Man of sorrows tried the load. Take up your cross, and by the power of the Spirit of God you will soon be so in love with it, that like Moses, you would not exchange the reproach of Christ for all the treasures of Egypt. Remember that Jesus carried it, and it will smell sweetly; remember that it will soon be followed by the crown, and the thought of the coming weight of glory will greatly lighten the present heaviness of trouble.
C.H. Spurgeon
by admin with
Consider for a moment with me the Roman centurions who were tasked with crucifying Christ! In Mt 27:24 Scripture says "So when Pilate saw that he was gaining nothing, but rather that a riot was beginning, he took water and awashed his hands before the crowd, saying, "I am innocent of bthis man's blood; see to it yourselves." ".
Let me paint a picture for you.
Pilate would normally read off the list of charges against someone the centurions were to crucify. Instead, as the Centurions pick up Jesus for his execution, they see their leader distance himself from the situation, saying he didn't want Jesus's blood on his hands. Normally, for most executions, some would show up for the spectacle, some would show up because their loved one was to die, and some would show up because they were victims of the one to be crucified. In Jesus case, they surely took notice that the loud, angry and tempestuous crowd was on the verge of riot. It had to make them wonder who this man was to be so reviled by his countrymen.
It didn't slow their actions vs Jesus however, because in the next few verses we see them strip him naked, and scourge him nearly to death. They mock and insult him, and wrap him in a purple robe (a jab at his status as King of the Jews).
Please watch this clip from the passion of the Christ, so that you'll understand what it was like to be scourged… Its 5 minutes well spent…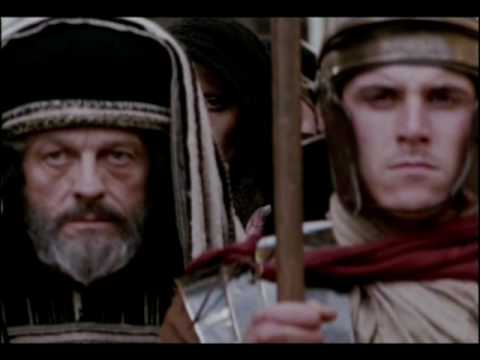 As graphic as this scene is, it does not, and could not show the full horror of the scene. I am an avid reader… I was reading a book a number of years ago about maritime history, and one of the things that was covered was a scourging with a cat-of-9-tails. This is the device that would have been used to scourge our savior. It was an instrument designed to cause as much pain, and inflict as much damage as possible. It was about a meter (3 feet) in length, and had 9 whip like tails each with their own piece of bone, metal, sharpened stone, or other horror attached. 5 lashes would remove half of the skin from your back, sides, and front. By thirty, significant portions of your flesh would be gone as well, leaving bone exposed. By 40, the cat's tails would be digging into your internal organs – likely tearing into your Kidneys, possibly your appendix, intestines, colon, gallbladder, and possibly even your liver. Being naked, his genitals would have been repeatedly hit as well. This all on its own would have caused death. They chose this moment to wrap him in purple.
The centurions, were likely hardened men, having had to do these things on a regular basis. They probably took a certain amount of pride and joy in their work. I think we can see their exuberance in their mocking. They are not only doing their job, but going the extra mile to try to humiliate Christ as well.
Then they ask him to haul his own cross several miles, up a hill, and to the place where his earthly body would die.
Any of you who've ever bled know that it doesn't take the body long for some of the blood to dry and form a scab. By now it had been potentially several hours since the scourging. More than likely the robe would have stuck in scabs newly forming around his entire body.
Then he was nailed to the cross. It has been said that if a prisoner managed to un-nail himself, the centurion responsible for the nail in question would be executed. One nail in each "hand" (which in the original language included the wrist, and a little ways beyond), one nail through both feet. They raised him, and dropped the cross into the hole. They cast lots for Christ's robe.
At this point Jesus asks God to forgive the Centurions because they didn't know what they were doing. Imagine the centurions reaction to all of this… A criminal asking for the forgiveness of his tormentors? A criminal that wasn't yelling, even screaming obscenities? A criminal their boss found no fault in. A criminal that offered no struggle, despite the horrors they had put him through. No angry come backs despite their mocking. The only thing he offered to the centurions, was the thing they needed most… Grace.
Isaiah 53:5 says "But he was pierced for our transgressions, he was crushed for our iniquities; the punishment that brought us peace was upon him, and by his wounds we are healed."
Let me leave you with a song that really impacts me. It is called "How deep the fathers Love for us" by Sarah Sadler.
Particularly, pay attention to the verse that says:
"It was my sin that held Him there
Until it was accomplished
His dying breath has brought me life
I know that it is finished"
Each and everyone of us is culpable for Christ's death. We deserved death, but instead He offers us life.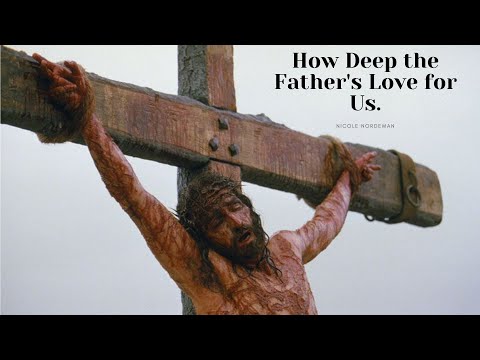 Have you accepted his offer?
Have you made a lifestyle of sharing his sacrifice with others?
Ken
PS. Part of this post came from Stephen Davey's Sermon
. I highly recommend his sermons, and the referenced sermon is part of his series called "conversions at calvary"
by admin with
I know men who are wise in their own eyes, and very well assured of their own
intellects, who, while palpably ignorant of everything that is rational, are conscious
that they know everything that is spiritual. Their acquaintance with theology is
thoroughly exhaustive; they have learned long ago to count to five, to reckon them at
their fingers ends—one, two, three, four, five. These mystic figures comprise all the
doctrines of the gospel. They know them, and they are ready to fight anybody about
them. They are men of a great deal of wisdom,—seeing men; but I think a man that
gets a little nearer to God discovers that he does not know everything; and he is quite
clear that he can no more compass the whole of divine truth, than he can hold the
ocean in the hollow of his hand. ~C.H. Spurgeon
by admin with
The more self sinks, the more Christ rises: like the two scales of a balance, one must
go down that the other may go up: self must sink in repentance that Christ may rise
by faith.
by admin with